Asian Oriental Fine Art Paintings, Lithographs, Canvas Giclee titled:
Tea Time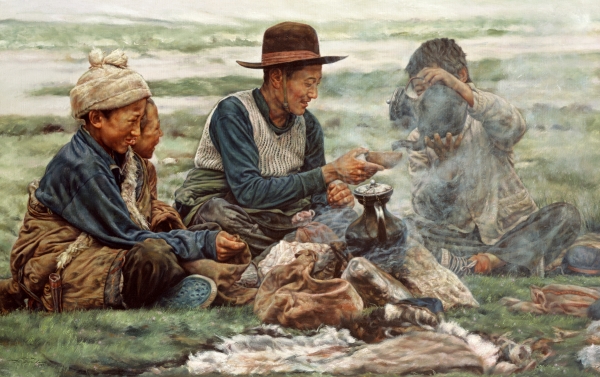 Title
: Tea Time
Year Published
: 1985
Limited Edition

There is no difference in color between limited edition
& artist proof, only the quantity produced for each.
(signed & numbered):
Artist Proof

During the printing process, the artist personally
approves the color of the initial run, hence Artist
Proof. Plus, it has a much smaller numbered
edition than Limited Edition.
(signed & numbered):
Image Size
(width x height in inches):
Description
: The Tibetan life style is primarily nomadic. They allow their herds of sheep and cattle to roam on the plains for months, as they camp and work. This painting, depicts young men and boys taking a tea break. This shows the harmony, friendship, and brotherly love between these men.