Asian Oriental Fine Art Paintings, Lithographs, Canvas Giclee titled:
Mother and Child #2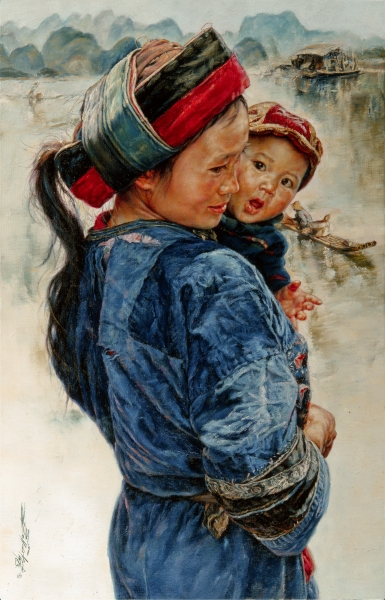 Title
: Mother and Child #2
Year Published
: 1984
Limited Edition

There is no difference in color between limited edition
& artist proof, only the quantity produced for each.
(signed & numbered):
Artist Proof

During the printing process, the artist personally
approves the color of the initial run, hence Artist
Proof. Plus, it has a much smaller numbered
edition than Limited Edition.
(signed & numbered):
Image Size
(width x height in inches):
Description
: The child squirms in its mothers arms, trying to see who's behind her. The childes little mouth is open in unadorned curiosity as its eyes take in all the things around it. This painting introduces the viewer to the traditional and artistic dress of one of the minorities of China.