Asian Oriental Fine Art Paintings, Lithographs, Canvas Giclee titled:
Fishgirl with Stick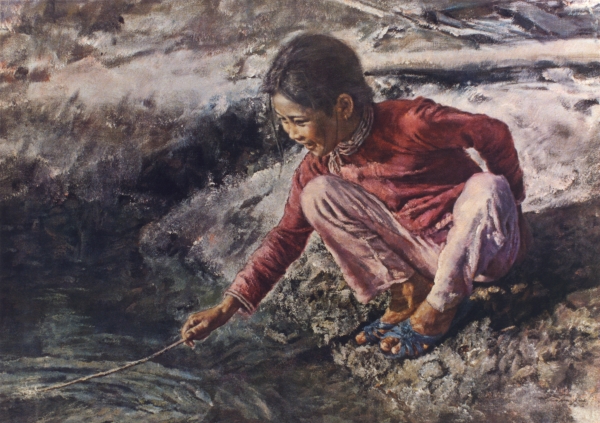 Title
: Fishgirl with Stick
Year Published
: 1976
Limited Edition

There is no difference in color between limited edition
& artist proof, only the quantity produced for each.
(signed & numbered):
Artist Proof

During the printing process, the artist personally
approves the color of the initial run, hence Artist
Proof. Plus, it has a much smaller numbered
edition than Limited Edition.
(signed & numbered):
Image Size
(width x height in inches):
Description
: Although fisher folk's children do not have much, the young can nevertheless have fun. The girl in this painting is amusing herself by stirring the water with a stick. Perhaps there are tiny fishes in the water and she's using the stick to tease them, or perhaps she merely likes to watch the ripple of the water as she disturbs it.